Silent Witness protects you and your family.
480-WITNESS (480-948-6377)
480-TESTIGO (480-837-8446)
or 1-800-343-TIPS (8477)
"Bag A Criminal" Louis Vuitton Handbag Raffle
Date: December 20, 2018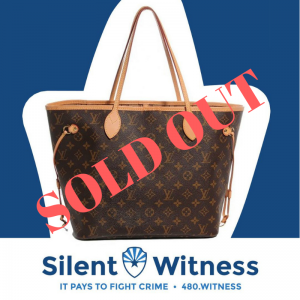 **Thank you for the OVERWHELMING response to our raffle. It has SOLD OUT and we appreciate everyone's participation!**
Please follow us on Facebook and Twitter to stay tuned for our next drawing! Sign up to receive our emails for a sneak peek at what events are coming up!
Help Bag a Criminal! Join Silent Witness as we raffle off a Louis Vuitton Handbag.
Sporting Clays Tournament
Date: February 15, 2019
Inaugural year for this tournament was a big success! Come join us to support Silent Witness in its efforts to keep felony suspects off of the streets and our communities safe.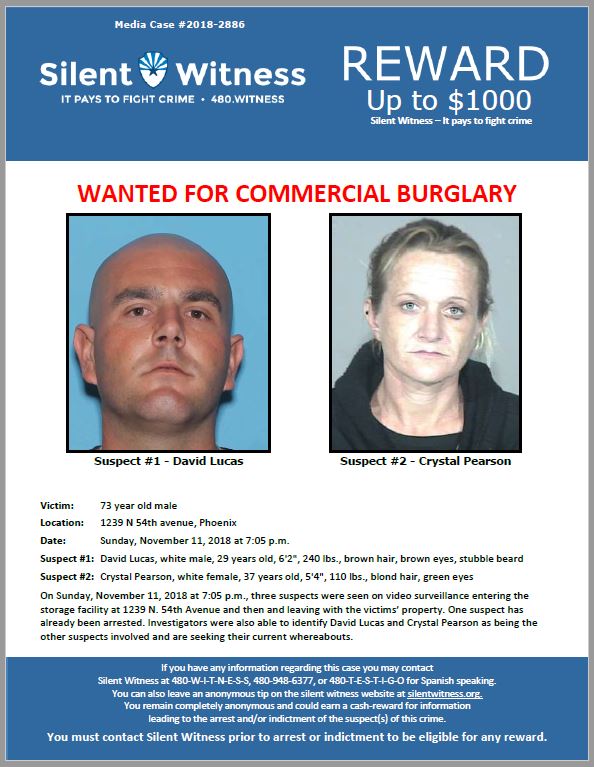 Burglaries | #2018-2886
$1,000
1239 N 54th avenue, Phoenix
Suspect
Suspect #1: David Lucas, white male, 29 years old, 6'2", 240 lbs., brown hair, brown eyes, stubble beard Suspect #2: Crystal Pearson, white female, 37 years old, 5'4", 110 lbs., blond hair, green eyes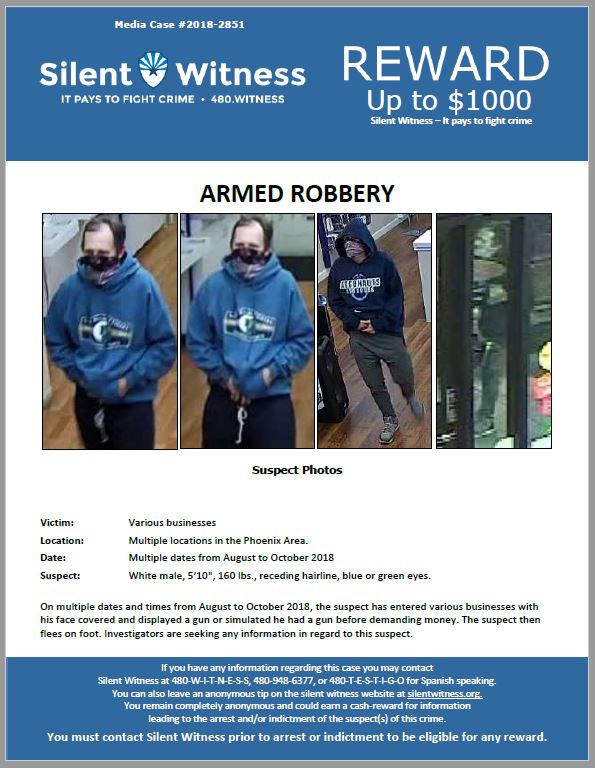 Crime of the Week | #2018-2851
Reward Up to $1,000
Multiple locations in the Phoenix Area.
Suspect
White male, 5'10", 160 lbs., receding hairline, blue or green eyes.
How We Serve
Prevent Porch Piracy
From Black Friday (November 23) until Christmas Day, Silent Witness will be offering a cash reward to anyone who can provide information leading to the arrest of people suspected of stealing packages.
Your Donations make an impact for past
victims and future generations
Silent Witness is a non-profit program that gives citizens the opportunity to anonymously assist law enforcement. Established in 1979, Silent Witness works in partnership with the community, media and law enforcement, and is a member of both Crime Stoppers USA and Crime Stoppers International. When you help Silent Witness, you help take felons off the street and out of your neighborhood.
Give back to your neighborhood by shopping

Pick Silent Witness in metro
Phoenix area as your
preferred charity

Shop! Part of the purchase
comes back to help YOUR
neighborhood
for information that leads to a non-drug felony arrest or incident.
Completely anonymous.